That should have been my first TV appearance. People will come to see my blog and tell me that they saw me on TV. But it did not happen.
Honestly, when Noemi texted me and called me last week about guesting on Shop Talk on ANC Channel, I didn't know what to do. I wanted to go but I simply can't. I was at the office, just finished my lunch when I received the text message and her call afterwards.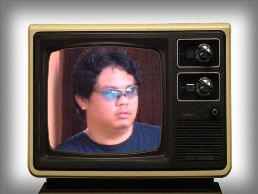 She informed me around 1:00PM asking me if I can attend the Shop Talk taping at 3:00PM. I declined because I can't simply go out of the office telling my bosses that I'm going on leave for a television interview on a topic that is not totally related with my job.

Problogging is just my sideline and I'm still a corporate slave tied to the cubicle everyday for 8 hours.
But honestly, I am really flattered to get that invitation. If only it was scheduled on weekends, I'll gladly come. Imagine talking about blogging and making money online side by side with bloggers Noemi and Angelo. I don't know if my knowledge is at par with them, but at least, I could share my keyword hijacking techniques.

Well, I guess, it's not yet my time to be seen on TV. Maybe, later. If you want to invite me for an interview, just fill up the contact form. 😉 Asa pa! Hehe. Pwede na, kahit sa Going Bulilit.

Image created using Jukepix
Technorati Tags: ANC Channel, Shop Talk, Problogging