Yes, finally, Sony BMG will release the Eraserheads Reunion Concert Album on November 3!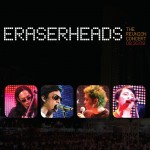 The album will cover all the songs sang by the band on that night, digitally enhanced to give the listeners the same feeling as if they are in the concert venue. (source)
Tracks include:
Alapaap
Ligaya
Sembreak
Hey, Jay
Harana
Fruitcake
Toyang
Kamasupra
Kailan
Huwag Kang Matakot
Kaliwete
With A Smile
Shake Yer Head
Huwag Mo Nang Itanong
Light Years
Wait there's more! According to Philmusic, these tracks are already available for download on your mobile phone. Just visit http://wap.smart.com.ph/music and follow the eHeads link.
Still wanting for more? Again, according to Philmusic, a DVD of the concert film and a 10-CD Collectors' Box Set of Eraserheads recordings will be released this December! Wow! I guess, I already know where I'll be spending some of my 13th month pay this December.