Update: I highly recommend NOT to use Smart Unlisurf. Here's why.
I don't have a USB dongle from any of the big 3 telcos. I only have my N79 cellphone and since I can't bring my Sky Broadband internet here in Davao, I am now using Smart Buddy Unli Surf.
I subscribed to their unli-surf for 1 week, 300 pesos for 7 days, used my N79 as an internet modem, and now I can surf the internet using my laptop with 3G speed.
How do you avail of the Smart Buddy Unli Surf? Simply follow the instructions at the Smart Buddy website here. After subscribing, you can now browse any site on your phone or use your laptop by using your phone as a modem.
How do you use your cellphone as an internet modem? It depends on your cellphone unit. For Nokia N79, all I need is the Nokia PC Suite. I connected my cellphone with Smart Unli Surf to my laptop via the USB cable, open Nokia PC Suite, open One Touch Access, selected Smart Philippines on the selection and clicked Connect. Here's a screenshot of a successfully connected modem: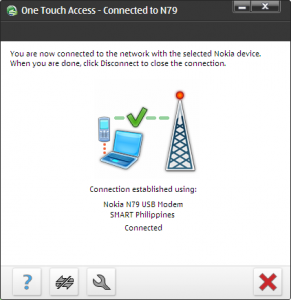 That's all for now. This post is posted using Smart Unli Surf.