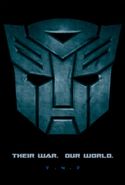 Me and my girlfriend saw this movie last night at Glorietta 4. And what can I say? Superb! Superb animation. Nice story line. Cool robots. I didn't know robots can be funny sometimes.
I like BumbleBee. I wish I can have him as my car. LOL!
Recommendation: You should see this movie. 2 hours spent wisely, no dull moments. Better than Spiderman 3. Hehehe.
P.S. I want this T-shirt!
Technorati Tags: Transformers, Movie Review