After 3 months of consolidating, editing and brain storming, we have finally finished the e-book: Guerilla bloggers' strategy and tactics on how to make cash online. The e-book that summarizes what we are doing to make money online.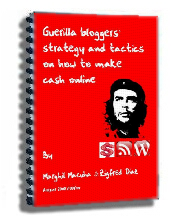 If you are a blogger, wondering why some people are making hundreds of dollars a month while you can't get a dollar per day, this e-book is for you.
On this e-book, we outlined what we've done from the very start, from getting a host to hijacking keywords and maintaining it. It's just a 30+ pages e-book, written by Atty. Diaz with contributions and editing from me, this e-book will guide you on how to make cash online the guerilla bloggers' way. 🙂
Download it now! Read it. Review it. Blog it. We're open for comments and suggestions!