I've been following John Chow's advice since last week on how to get more targeted Twitter followers. Here is his advice in a snapshot:

1. Search on search.twitter.com for keywords in your niche.
2. Follow all the twitter users on the search results.
3. These users will starts following you back.
4. After 48 hours, unfollow all those that did not follow back using friendorfollow.com.
5. Rinse and repeat.
Just like what he said, this is a slow and painful way, but still effective on getting followers. For just a week of doing it, I already have 2300+ followers, I started with 300+ followers last week. See the graph below!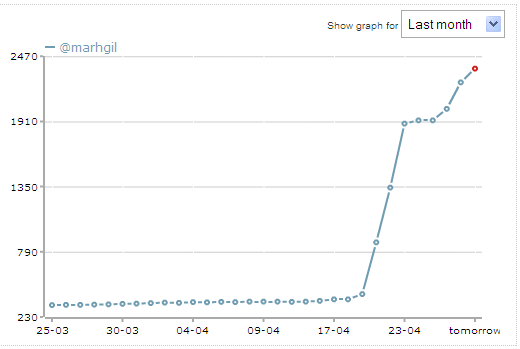 Twitter Counter Graph
However, I did not strictly follow his advice and did some change of plans to make it faster, almost semi-automatic. Here's what I actually did:
Instead of doing a search for the keywords on my niche and painfully following each user on the result, I simply follow John Chow's followers! 😀 Why? Following each user on the search results takes time: you click on one of the search result to open his twitter page, wait for the page to load, then you click the follow button, then close the page and move to the next user. That really takes time. However, following John Chow's user is simple. You open his follower's page and click the follow button all the way from the top to bottom. You can follow 20 users in less than a minute. 🙂 Since we are on the same "Make Money Online" niche, I'm sure that his followers are of the same interest as mine. Easy, isn't it? 😀
I also modified step 4 to make my life easier. Instead of using the friendorfollow.com site, where you get a list of people you follow who don't follow you back, then you open their twitter page and unfollow them that takes a lot of time, I used tweepular.com instead! With Tweepular, you can get the list of people who don't follow you back and you can easily unfollow them with a single click of your mouse. No visiting their twitter page. A single click, and 200 of them are unfollowed in an instant. Almost instantly. Almost automatic!
What's the purpose of getting tons of Twitter followers? Lots of followers mean lots of people reading your tweets. It's easier to get your voice out there, specially if your followers are targeted and know exactly what you are tweeting about. Some people are actually making lots of money because of this. And I want to be one of them. 😀 Maybe, in the near future.