Everytime I visit Davao, I always visit Kuya Ed Restaurant among others. Why? The title says it all. It's an eat-all-you-can restaurant for only 99 pesos!
Yeah. At first I can't believe it. Eat-all-you-can for 99 pesos? Yeah, it's true. For only 99 pesos, you can eat all you can. And the food aren't second class. With a wide variety of Filipino food choices from pork, beef, sea foods, fruits and desserts, your 99 pesos will surely go a long way.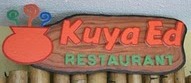 You only pay 99 pesos for the food. For the drinks, bottomless iced-tea only costs 36 pesos. So, for only 135 pesos, you have unlimited supply of food and iced-tea already! Kain hanggang maglungar. Haha! They even give children with 3.5 feet height below a 50% discount!
Next time you visit Davao, try Kuya Ed Restaurant. They are located at A. Pichon St., Davao City. Just ride a taxi and tell the driver you want to eat at "Kuya Ed's", the driver already knew it. 😉