I've been using Nokia N79 for more than a year now and I noticed I've never made a review yet. 🙂 Ok, here's my review after more than a year of using it.
Nokia N79 is my main phone right now. I use it for receiving text messages and calls. I also use it for taking pictures because it has a built-in camera. Sometimes, I also use it for taking videos. My wife used it to take a video of me during my iBlog6 talk.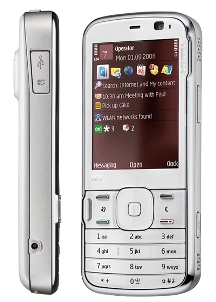 It has FM receiver so I can listen to FM radio stations, all I need to do is tune in to my favorite radio station, use the provided headset and I'm good to go. It has also an FM transmitter which I use with my car radio. I'll just set the FM frequency on my car radio to the same frequency set on the FM transmitter, play the MP3s on my cellphone and it will transmit to my car radio. Sound quality is good. Stereo sound.
I can also surf the internet with it. Using Smart 3G signal, I can check my emails and blogs on the go. It can also connect thru Wifi which is handy when I am going around SM malls. Since SM malls have free Wifi, updating my Facebook while malling is a breeze.
I can also play games on it. It came pre-installed with Block Breaker Deluxe, full version. I also installed Sudoku games and Block Breaker Deluxe 2 on it, both full version which I downloaded for free from Nokia Ovi.
I also installed Joikuspot on it, making it a Wifi hotspot. I used it as a Wifi hotspot during my visit to Davao last December. It worked fine for me.
It is also tough and durable. I've accidentally dropped it several times already and guess what, it is still working! 🙂 All functions are still active up to now, though it already have some light scratches on it.
I don't have plans of changing my cellphone unit yet. I'm still a satisfied user of a Nokia N79.