iChromy is a free web browser for the iPad. It is fast. It looks like a Chrome browser. I already started using it more often than the Safari browser.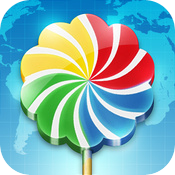 iChromy Logo
Credit: Itunes Appstore
It has tab support just like the Chrome. The address box is also the search box, just like Chrome. You can bookmark a site, add it on the "reading list" so you can read it offline later and you can also surf in Incognito Mode.
With the latest version, you can already clear the cache, history and cookies.
If you are a Chrome browser fan, it's definitely worth downloading. Try it! Just search for iChromy on iTunes. It's free!