Ilang araw din akong nagcanvass hopping from computer shop to computer shop on Manila and Batangas looking for the right laptop that fits my budget. Finally, nakuha ko na ang gusto ko, and I am currently posting this using my new laptop – the laptop that blogging bought. Budget came from Google Adsense, Text Link Ads, Blogtoprofit and Reviewme earnings, at saka nga pala from ituloy angsulong prize.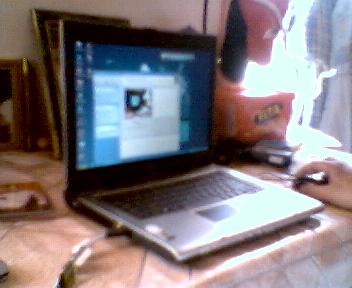 Acer Travelmate 3262WXMi
Specifications:
Intel Core Duo processor T2300E (1.66 GHz, 667 MHz FSB, 2MB L2 cache)
14.1″ WXGA wide TFT LCD
Intel Graphics Media Accelerator 950
80 GB HDD
DVD-Super Multi double layer (support DVD+R Double Layer/DVD+-RW)
512MB DDR2 (support dual-channel)
802.11a/b/g wireless LAN
Sabi pala ni insan, ano daw itatawag ko sa laptop na ito? Eh di laptop. Hehehe. Ok, para mas maganda, since my full name has an anagram of "I'm a laugh charm", I'll call this a laugh top. Make sense? Ewan.
Altis, Acer, what's next? The wedding that blogging brought? Hehehe.
Yun lang!
Technorati Tags: Acer Travelmate, laptop, blogging, Reviewme, Blogtoprofit, Adsense, Text Link Ads, Ituloy Angsulong