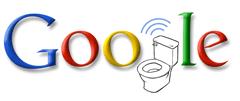 Aside from the Gmail Paper, Google launched another joke in celebration of April Fools. And they called it Google TiSP! The Toilet Internet Service Provider! Here is a snippet of their press release:
MOUNTAIN VIEW, Calif., April 1, 2007 – Google Inc. (NASDAQ: GOOG) today announced the launch of Google TiSP (BETA)â"¢, a free in-home wireless broadband service that delivers online connectivity via users' plumbing systems. The Toilet Internet Service Provider (TiSP) project is a self-installed, ad-supported online service that will be offered entirely free to any consumer with a WiFi-capable PC and a toilet connected to a local municipal sewage system. More.
You can find more information about this Google's hot product here. I like their FAQ. Indeed, Google knows some toilet humor. Hehehe.
Technorati Tags: toilet humor, april fools, google