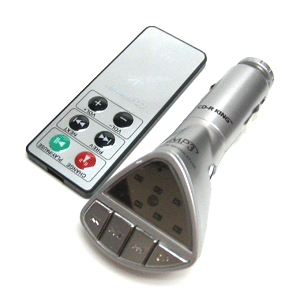 Last Friday, I saw this FM modulator at CDR King Robinson's Manila branch and bought it. It's cool! For just 900 pesos, you can start playing your MP3 collections from your USB drive into your car stereo via its FM station.
Here are some of the features as listed on their product page:
Built-in FM transmitter
With remote controller
Read MP3 file from the USB flash disk directly and broadcast through the car FM tuner
Line-in function that enables you to enjoy music from the external audio device such as CD and MD player
Four functional keys: Play / Pause, Prev / V-, Next / V+ and Ch
Adjust channels within 87.7 – 88.9MHz or 106.7 – 107.9MHz
Car cigar socket power supply (12V DC power)
USB1.1 interface with high transfer speed
7 green LEDs that indicate 7 preset channels
1 red LED which indicates work state (play or pause)
Can be remotely controlled
Power Requirement: 12V – 1Amp
Transmission Range: 3 – 4meters
Fuse: 250V – 0.5Amp
Battery: Lithium 3V
Line of sight: Standard Range is 1meter
The sound quality is good, as if you are playing using a CD player. The playlist is ordered by folder name then by filename ascending alphabetically.
Technorati Tags: MP3 FM Modulator, car accessories