I want this phone! It's 3G capable, with all the features I need for a price of 6290 pesos only!
Here are the features listed on Smart Website: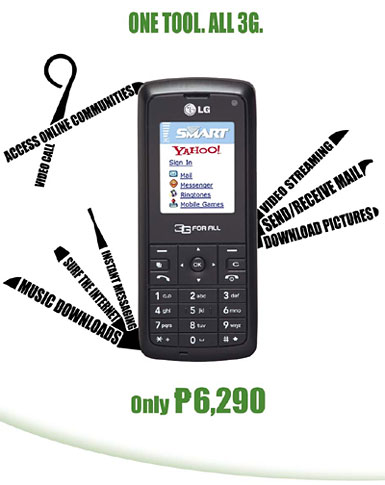 1. Dual-cam (1.3 MP + VGA camera)
2. Full color screen
3. 384 kbps internal modem (USB cable include)
4. Bluetooth.
5. Expandable Memory
6. 10 MB Internal Memory
7. Multimedia Player (MP3/Video)
And it is also available at Smart Gold Plan 800 for free!
It's available starting today! So, visit them and get one now! 😉 Read more about this phone on Yugatech.
Picture courtesy of Smart. This is NOT a sponsored post.

Technorati Tags: LG KU250, cheap 3G handset, cheap cellphone