Tomorrow is the big day. Different bloggers from different niches from different parts of Philippine blogosphere will come to the biggest mall in Asia to have fun. I will be there.
While browsing the official list of attendees Ms. Loida De Vera who coincidentally was browsing it at the same time with me, suddenly sent this message: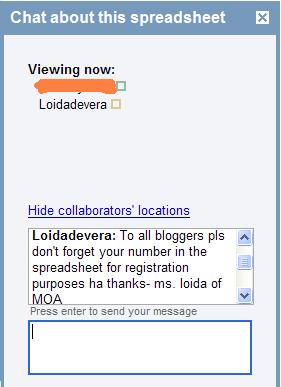 I told her that it should be announced on Aileen Apolo's blog, since not all of us will take note of our numbers, and only a handful of bloggers who were currently viewing the file read her message. So, as to spread the word, I told her that I will blog about it too. She promised that she'll contact Aileen regarding this.
So, don't forget your registration number, ok? It will be needed for registration purposes tomorrow.
Teka, I have two numbers.. hehehe, 75 and 95. Sigurista, dalawang beses nagparegister. LOL!

Pinging the other blog posts just to spread the word…
Aileen Apolo
Jozzua
Guitarchic
Marc
Baratillo
RebelPixel
Kontrapelo

Technorati Tags: Blog Party