The traffic was light on EDSA during the Pacquiao-Barrera fight. On the contrary, the traffic on this blog quadrupled during that fight night. I got 4000+ unique visitors on October 6 (US Time) and 3000+ on the next day.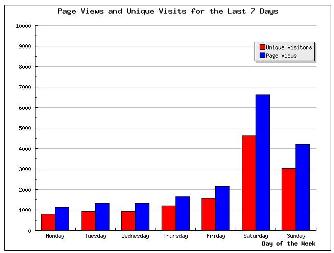 The traffic that Pacquiao-Barrera Brought
(red is unique hits, blue is pageviews)

So, what happened. I just applied what I have blogged about here:
generating traffic by forecasting.
Aside from additional traffic, I gained new feed subscribers and of course, additional
Google Adsense
income. 🙂
Sana, araw-araw, may laban si Pacquiao!
Technorati Tags: Traffic generation, Pacquiao Barrera fight