Last December 2007, I released a list of keywords that's driving traffic to my blog.
Now, here's the deal. If you want to hijack those keywords, you can do so. Optimize for it. After hitting the first page of Google and you see that one of my blog posts is still on the first page, contact me and let's exchange links within those blog posts.
For what? So that visitors who found my blog post will have an option to visit your blog post thru it and vice versa. That's an additional traffic for both of us. Since we are both on the first page, it doesn't matter who ranks higher. If the searcher visits your post, then fine. If they visit my post, then fine. And since we link to each other, your visitor might visit my blog post too and vice versa. It's just a win-win situation for us. You can even put a no-follow tag if you want. I'm after the traffic, not for the Google juice. 🙂 That keeps us safe from being accused of Google spamming. 😉
Actually, we've been doing it already for the past few months. Jehzlau has been busy hijacking some of my keywords and after hitting the first page, we exchange links. Now, I could see from my logs that there are many referrals coming from his blog post and I'm sure, my blog post is also sending some of my visitors to him.
If you'll check my Project Wonderful bid page, you'll see from the stats that aside from the search engines, Jehzlau's blog is one of my top referrers. Here's a screenshot for today: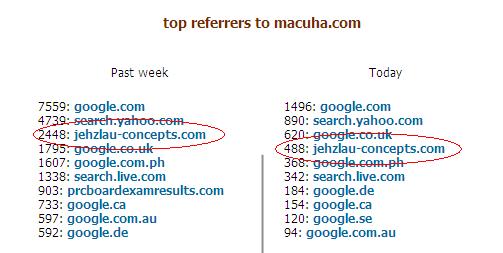 Ok. Now, I'm opening this opportunity to all my readers. Hijack my keywords and let's exchange links when we finally see each other on the first page and let's get additional traffic from each other. 😉
Hint, yutube and yotube is giving me quite a huge traffic everyday. You might start with it. 🙂 Or just check my daily keyword logs to see what keywords are giving me traffic everyday.
Let's not compete. Instead, let's cooperate. For a bigger online income! 😉