I just found a new Nintendo DS homebrew where you can learn to play the piano. You'll not find it anywhere on your favorite NDS Lite store yet because this is a homebrew application made by Multiple:Option as an official entry into the Neoflash Spring Coding Competition 2008.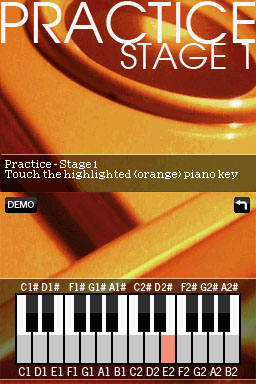 Game Melody Oratorio Screenshot
You'll not be an expert pianist like this guy after playing it. It only showcases 5 tutorial for 5 popular game tunes: Super Mario Bros, Sonic the Hedgehog, Tetris, Bubble Bobble and The Legend of Zelda.
The virtual piano consists only of 2 octaves and playable via the stylus. You'll just tap the key you want to play. 🙂
For more screen shots, download link and more information, visit their blog post here. You need an R4DS to play this application.
Technorati Tags: Nintendo, Nintendo DS Lite, NDS game, NDS homebrew