Today, I was shocked by checking my traffic stats. Look!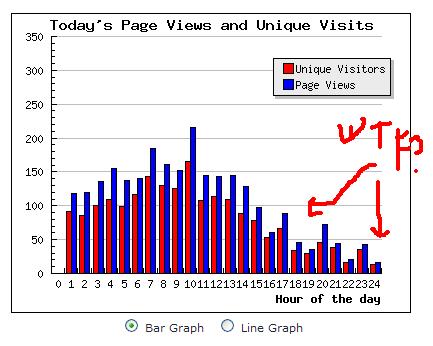 Obvious Drop In Traffic
So, what happened? I investigated and found out that Google dropped most of my posts on their first page. So, what am I gonna do? I've just read Alister Cameron's similar experience and Brent Hodgson's solution to his problem. I investigated further based on their suggestions and here are more of my findings.
My site is still ranking for some popular keywords. (eg. splash island, macbook air philippines)
My site is still indexed by Google.
No crawl errors on my Webmaster Tools account.
Since everything is fine on my side in my opinion, all I have to do is cross my fingers and wait for 4 days and hope everything goes back to normal.
Wish me luck, or else, I'm back to $100/month Adsense income. 🙁
If all else fail, I still don't know what to do. Any advice? Like what I've said, I'm not an SEO expert, just an SEO addict. 🙂