Wazzup Manila Philippines? Do you know that I am already registered on the Wordcamp Philippines 2008? Yes, I am registered already.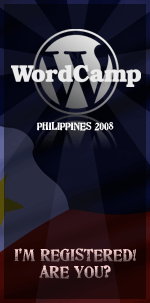 After playing some Free Online Flash Games last night and checking some Auto Insurance Quotes for my car, I've decided to check the Mindanao Bloggers blog. There, I found out about the event that they organized.
The event is free for everybody, but you must register and make a blog post about it. i.PH: the Domain for Individuals is one of the sponsors, together with Real Estate CRM, Real Estate Website Designers, Orange County Real Estate, Lane Systems Inc., RedMedia and all the other links on this blog post.
It will be held on September 6,2008 at the De La Salle-College of St. Benilde, Taft Avenue, Manila.
I will be there. Hope to see you there!
I've decided to embed the sponsors' links on my paragraphs to make it unique and hopefully rank higher on the SEs. 😀