This will be my last blog post being a single. I'll be blogging again after the wedding on August 8, but for this coming week, I'll be in hiatus mode. I'll be in Davao by tomorrow afternoon.
And to keep you entertained while I am away, let me share you this little video my future wife made for us. Hope you like it.
Macuha Mojana Nuptial Trailer

And by the way, if you want to send us a gift, you can do so by clicking the gift image below. We accept gifts of any kind, from arenola to house and lot, it's all up to you. 😉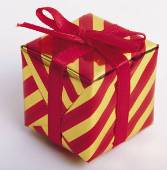 Send Us A Gift! 😉

Thank you very much! Happy blogging!