We've always wanted to have a pet dog. So last Sunday, we've decided to search for one. Our initial plan was to check first for the prices of the puppies and we'll buy one when my August Adsense payment arrives.
However, when we saw this cute puppy, we wanted to buy it immediately. Instead of waiting for my Adsense payment, we ended up buying the puppy. Anyway, my July Adsense payment is still intact. Of course, this dog is not that expensive, it just costed us around 5% of my July Adsense earnings. 😀
So, now I introduce to you our puppy. Meet Doogle! The dog that Google Adsense bought! (Click the image for a cuter view 🙂 )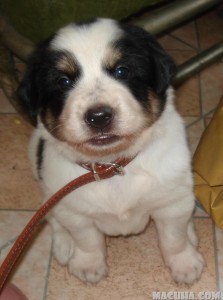 Doogle: The Dog That Google Adsense Bought 😀

He is just 1 month old and of St. Bernard breed. I might create a Dogster account of him someday. 😀 Maybe, when he's big enough to blog. LOL! Here is his Dogster account with more photos!