At last, I can study Chinese on my Nintendo DS. I've been working on a company where most of our foreign correspondents are Chinese nationals, and most of the time, I feel out of place when they started discussing with each other in their native language. Maybe, with My Chinese Coach, I might be able to understand a little of what they are talking about. Hehe.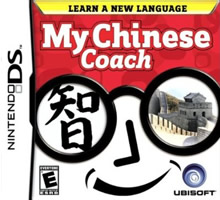 I'm currently on the first level now. Trying to familiarize myself with common phrases such as Ni Hao, and Ni Hao Ma? The application guides the user on proper pronunciation, taking advantage of the microphone where you can record your voice and compare it with their demo. Aside from tutorials, games are added to better familiarize with the words. A new level will only be unlocked once you gathered enough scores from those games. There's also writing lessons of the Chinese characters, fully using the touch screen capability of the Nintendo DS.
Since I'm not going anywhere this Halloween, I might spend my day trying to finish all the lessons there. I hope I can really learn the Chinese language using my DS.