Yesterday, we bought a new Nintendo Wii at Greenhills Shopping Center. We initially thought of buying just the basic package worth Php 11,500, but we ended up buying a Php 15,000 package that contains additional Wii Remote and Nunchuck controller, 58 in 1 Wii accessories, 10 games and the Blue Light rechargeable battery pack.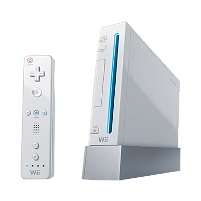 The Nintendo Wii is modified already, ready to play those pirated back-up games from the DVD. It has this Waninkoko Menu Patcher already installed for it to play the back-up games.
Gaming experience? Awesome! Good thing our living room is quite spacious, playing tennis on Wii Sports for 2 players is doable. I was sweating hard after 30 minutes of game time, a nice way to burn those excess calories. 🙂
I might be blogging some review on Wii games from time to time on this blog now.
Playing Wii, burning excess calories and trying to make money online from the experience = Wiin! 🙂