You cannot use your joystick directly when playing flash games. You either use your mouse or the keyboard. But what if you really wanted to use your joystick because it's a lot easier to play with it? I was faced with this problem because I wanted to play Super Mario Bros. Crossover using the joystick. Good thing, ExplodingRabbit gave the solution: use JoytoKey program.
JoyToKey is an application that converts your Joystick button press to a keyboard press. That is, you can configure it so that when you press the up button on your joystick, it will tell you computer that the up key on the keyboard has been pressed. Or if you press button 4 on the joystick, it will tell your computer that Z key was pressed.
You can download JoyToKey here. Then, simply unzip the files and run JoyToKey.exe. Disclaimer: I will not be responsible if something went wrong with your PC for running this application, ok? Btw, my laptop is still OK.
Here's the screenshot of my JoytoKey setup for Super Mario Bros. Crossover (click the image for full size view):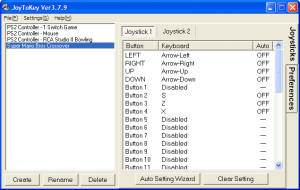 As you can see, I simply map the button to the keyboard. Left, Right, Up, Down correspond to the Left, Right, Up, Down on the keyboard. Button 2, Button 3, and Button 4 were assigned to letter S, Z, X, the default attack and jump keys on Super Mario Bros. Crossover.
So, that's it. Just assign those keyboard keys to the button keys you want, open your favorite flash games and run the application while you play using your joystick! Enjoy!
Btw, I'm using a generic joystick I bought from CDR King.