Olympus E-PL1 is for sale in SM City Lipa Camera Department for the price of P39,995. It is available for a 12-month installment of P3,332.92, with a 4GB SD card as a freebie. Promo ends on August 31, 2010.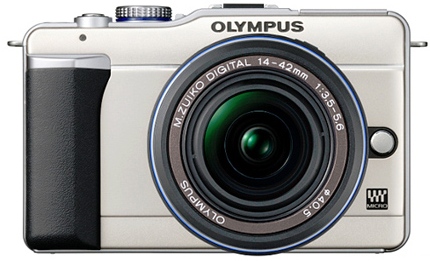 Olympus E-PL1
Olympus E-PL1 Features
HD MOVIE WITH MANUAL CONTROL, ART FILTER MOVIE, AND NEW DIRECT MOVIE BUTTON
Shoot movies at 30 frames per second, with high-quality sound, in 720p with available manual control over aperture and shutter speed. This new level of control allows you to express your vision exactly how you want in your HD videos. A Direct HD Movie Button switches you from still to movie mode with the press of a button. You can also capture HD video (720p) using one of the six Art Filters for more creative shooting options.
NEW EASY-TO USE-LIVE GUIDE CONTROL
Seeing the results before you shoot can change the way you take a picture. Want more vivid or muted color in your shot? Want warmer or cooler hues? Want a brighter or darker subject, or a sharper or softer background? Or maybe you want to capture the fast-moving action of your subject with a little artistic blur, or perhaps freeze the action? Simply set the camera to iAuto, press OK to engage Live Guide, then press the up and down arrows on the back of the E-PL1 to easily slide through numerous photographic effects. Make adjustments and watch the LCD as the effects are made live — before the image is captured! Live Guide also features a Tips section on how to compose a shot or shoot kids, pets, flowers and more.
BUILT-IN FLASH
Use the pop-up flash to easily illuminate low-light subjects. The camera is also compatible with a range of optional external flashes including the Olympus FL-14, — and the E-PL1 has wireless flash control using the FL-36R and FL-50R — for dynamic lighting control.
IN-CAMERA ART FILTERS
With six in-camera Art Filters (Pop Art, Soft Focus, Grainy Film, Pin Hole, Diorama and our new Gentle Sepia filter) you can explore your artistic side while taking both still shots and HD video. The Art Filters can be applied as you shoot, no additional software required.
12.3 MEGAPIXEL
The E-PL1's powerful 12.3 megapixel Live-MOS sensor packs a powerful high-quality imaging punch for such a compact camera, allowing you to capture more detail than ever before. The Live MOS image sensor delivers excellent dynamic range, accurate color fidelity and fine image details in both highlight and shadow areas.
You can find its complete specifications here.
Prices are subject to change without notice. Just visit your nearest Olympus dealer for more information.
Take better digital photos by buying these e-books! 😉
If you own an Olympus E-PL1 camera, feel free to write your review below. Thanks!