Before, I never bothered optimizing my VPS on Dreamhost. As long as I can post on this blog and I can pay the money corresponding to the memory usage every month, I didn't really focus on it. If traffic increased, all I have to do is adjust my memory resources up and it will be ok. Anyway, the increase in traffic will mean more Adsense earnings that can cover the extra amount of money I need to pay.
Things changed when I started Batangas Today. It was ok on the first 2 months. It was hosted on the same VPS as this blog. It shared resources with this blog and all other blogs and website I have. Then, Batangas Today was accepted on Google News, and before October ended, we were included in the index of Yahoo! News.
Traffic grew from about 500 visitors per day to more than 15,000 visitors per day! There were even days that it went up to 30,000 unique visitors in one day. Then the site went sluggish. The front end usually loads fast, thanks to WP-Super-Cache plugin. However, making a post was a pain in the tutut. Most of the writers complain that it was really slow. Well, really, it was slow.
So, I've decided to move it to its own VPS. Adding a new VPS on Dreamhost is as simple as clicking a button. You request for a new VPS, and they deliver it in less than 24 hours. And that's what happened. I got a shiny new VPS in less than 24 hours.
I scheduled the moving of Batangas Today to the new VPS last Sunday night. It was a smooth transition. We were expecting that after the transition, the site will load faster, both front-end and the back-end. Guess what happened?
After moving, things went wrong from bad to worse. The site seems much slower compared to when it was still on the old VPS! Writers complained. I even complained to Dreamhost. They just told me to optimize my WordPress installation, giving me links from their Wiki on how to do things. But I already did all of those things. Using Super cache. Disabling image hotlinking. Blocking abusive IP address. etc… But still, site was slow. I even adjusted the memory resources to its maximum of 4GB. Still very slow. The memory usage kept on moving up and down like a roller coaster.
After hours of researching and googling about this problem, I think I finally solved it. Yesterday night, memory usage went down from 1GB to 100-300MB. It is even reaching less than 100MB today, with the amount of traffic same as before. See the graph! (Click the graph for a larger view)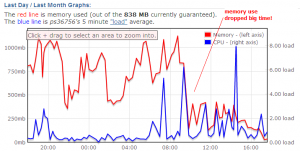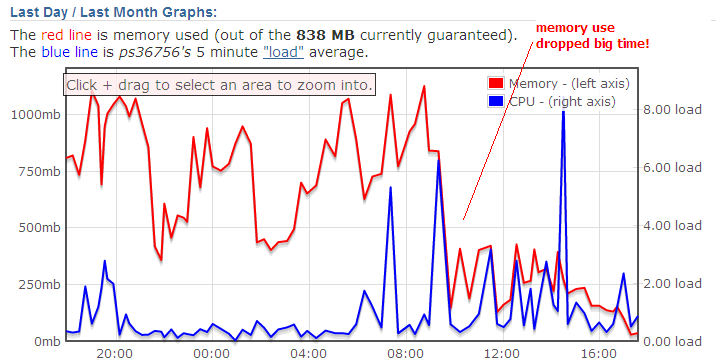 So, what did I do? Actually, WordPress is NOT the culprit. It's my VPS' configuration. After making the right changes and setting the right combination, memory usage went down as you can see on the graph above. I was like, WOW! I even applied the settings to my old VPS and from 400MB memory usage, it's now on a double digit most of the time. 50MB to 80MB. So, what change did I make? That will be the subject of my next post. Watch out for it!