I recently deleted my Friendster account after downloading all my files from there. Why? Because Friendster is going to delete our data anyway, like photos, blogs, comments, etc. They said that they are going to introduce a different service.
So, why did I delete my account then? Because I signed up on Friendster for social networking, not for any new service they are planning to offer. Having my account already with them makes me subscribed to their planned service already, whatever it is. And I don't want it that way. I want to see the service first and sign-up with them if I like it. I signed-up for a social networking service, not a gaming or music service.
I highly recommend you do the same. We don't know what they are going to those account information anyway. After they deleted the reasons we have the Friendster account in the first place, don't expect that we'll just stay there and let our information be used on any way they want.
So, how do you delete your Friendster account? Simple, after downloading your information using the Friendster Exporter app, go to Settings on the upper right hand corner of your account. Then click Cancel Account. See screenshot below. Click the image for a larger view.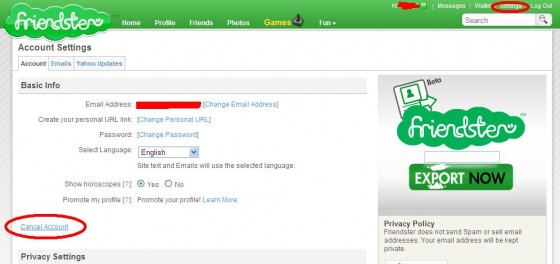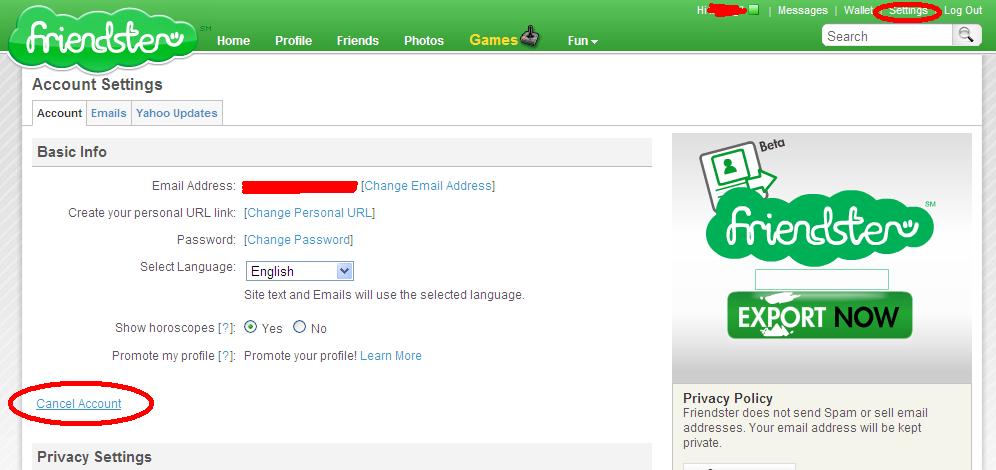 And that's it! Goodbye Friendster!