My girlfriend who works in a call center in Ortigas called me this afternoon informing me that she's running out of money. She still has money on her Metrobank ATM but all Metrobank ATMs are offline. She can't withdraw to any ATMs around their office. She can't even do a balance inquiry using other ATMs because the connection to Metrobank system is down.
So I asked her why not withdraw over-the-counter? I believe we can withdraw our money over-the-counter if the ATM is offline. She said that one of her officemates attempted withdrawing over-the-counter and was not able to do so because the Metrobank teller told her that the system inside the bank is also down.
So, I went to Ortigas today to give her some money. She said that almost everyone on their office is already having this problem. They are running out of money and are still waiting for Metrobank to go online. Everyone relies on their salary which was released today and they can't withdraw it.
Hello Metrobank?! What's going on? What went wrong? I checked your website and I didn't see any advisory informing people of what's going on. Are you under attack? Or just doing some data migration? Or system upgrade? Most of them depend on their salary, hope you can put your system back online at the soonest possible time. They are in good hands, aren't they? Prove it.
Thank God, I'm on BDO. 🙂
Update: Here's the "advisory" from Metrobank Ortigas: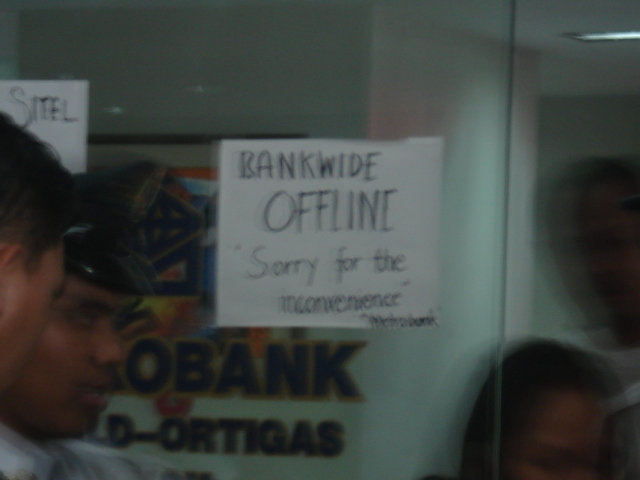 Bankwide Offline
Update: One of the commentor, Ash, says that it's already up now. Hope it's true.

Technorati Tags: Metrobank