Here's another Filipino word as a part of my Filipino words project. Mangga. Mangga literally means mango. Yup, the fruit. Its scientific name is Mangifera indica.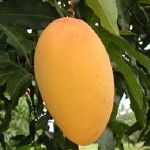 Mangga or mango is the Philippine National Fruit. It tastes deliciously sweet when it's ripe and sour when still raw. We call it manggang hinog if it's ripe and manggang hilaw if it's raw.
It's mangga season here in the Philippines right now and you'll see this fruit on every fruit stand anywhere. Prices ranges from Php 30 per kilogram to Php 80 per kilogram depending on its quality.
The raw mango is usually eaten with bagoong – a common food in the Philippines made with anchovies, shrimp and other species of fish that are salt-cured and fermented to be served as a condiment or a seasoning in a variety of food dishes.* If you don't have a bagoong, a soy sauce and some salt are also good combinations. (Damn! Naglalaway na ako! 😀 )
To see more pictures of mangga, click here.
That's all.
Image Source
*Definition from RecipeTips