After the bad news, here comes the good news. Raimund Marasigan announced on the subsandwich Yahoogroups that the concert will push through. A new sponsor took over, but the tickets will no longer be free. Here's his message I copy-pasted:
dear everybody

after much ado. the eraserheads concert is most definitely pushing through.

philip morris and its brands have pulled out from the concert. but another company is taking over the production. the turn over started yesterday and they have already started work on the site in the fort.
so you can check.

there are good news and bad news.

unfortunately its no longer free. all the long winded registration procedures in the red nation site is now void.

the good news is that the age limit is now 12 years old (for safety reasons) and tickets will be sold so you dont have to wait for confirmation and what not.

the official announcement and ticketing details will come out in major newspapers and on the radio on tuesday.

these are the only details i know for now so no need to email me. im just the drummer.

btw. i just got home from the last rehearsal. the band is cooking. we will see you all on the 30th.
So, mark your calendars. Information on how to purchase the tickets will come out this coming Tuesday. Better be ready with your money, these tickets will surely sell like Fruitcakes! I'll purchase as early as possible, baka magkaubusan. 😀
Yey! Tuloy ang Ligaya! Sa wakas!
Hat tip on Azrael.
Update: PEP reported that the general admission tickets will be sold at Php 1,500!
Update (Aug 26, 2008 10:30AM): It's already Tuesday! Philippine Star, Philippine Daily Inquirer and Manila Bulletin issues today don't have ticket information about the concert. Furthermore, no signs of the concert on ticketnet.com.ph and ticketworld.com.ph. I'm still waiting for further developments.
Update (Aug 26, 2008, 2:00PM): Some people from the Eraserheads Yahoogroups called Ticketworld. Ticketworld admitted that they are the one to sell the tickets, though, they are still finalizing the price. You can call (+63 2) 891 9999 to contact Ticketworld directly. For the meantime, while waiting for the tickets, watch this teaser video for the concert first I found on Youtube.

Eraserheads Reunion Concert Teaser
Update (August 27, 2008, 9:30AM): Based on calls made by members of the Circus Yahoogroups to Ticketworld, they were informed that tickets will sell at Php 1030 for General Admission and Php 2060 for VIP, standing room for both prices. List of Ticketworld outlets here.
Update (August 27, 2008, 8:00PM): Tickets are already on sale at Php 800 and Php 1300. See the Ticketworld sales page here.
Update (August 28, 2008, 8:00PM): I finally have my ticket! Check it out!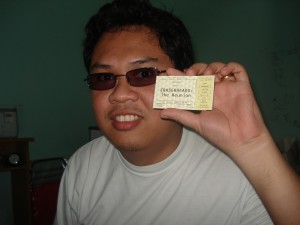 My Eraserheads Reunion Ticket