About four years ago, my Blogspot blog was featured on Inq7.net's You Blog Addict. I blogged about it here. The link there is unreachable now but thanks to archive.org, they were able to archive a copy of that feature here. Yes, I was the blogger behind Marhgil's Kukote which I renamed Kukote In A Jar later. I blogged about anything during that time, trying to make funny posts everyday. It was just for fun, nothing more.
Fast forward today, my blog was featured again. This time, not the blogspot blog, but this blog. Today, I blog about making money online, and got featured on Manila Bulletin because of it. Yeah, I am an evolving blogger. If you read my old blog and this blog, you'll see the big difference. Mas mukhang pera ako ngayon. Hehe.
On the feature, I just answered some questions about making money online. Here's a souvenir picture of that Manila Bulletin issue (dated June 15, 2009, page D3).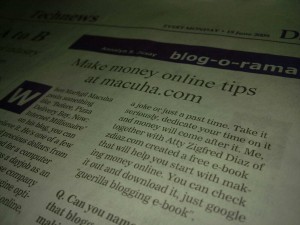 Macuha.com On Manila Bulletin Blog-O-Rama
If you have a copy of the newspaper, take a picture of it with you holding it and showing that feature page, send it to my e-mail address at [email protected]alam-nyo-na.com and I'll post it here with a link to your blog, promise. 😉
You can read the full interview here. Thanks a lot to Ms. Annalyn Jusay for the feature.
Finally, when you search my name on Google News, the result is not empty anymore. 🙂