Who wants to win $200? A total of $300 worth of Paypal dollar prizes will be given away by Makoy on his new online contest: "Humor Me Makoy Contest".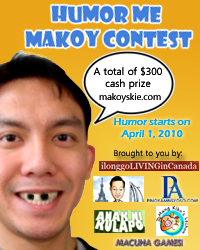 Here is the list of Prizes:
Grand Prize – $200
1st Place – $50
2nd Place – $30
3rd Place – $20
All you have to do is select a funny post from Makoy's blog, blog about it and do some linking. For the complete set of rules on how to join this contest, visit his blog post here. This is NOT an April Fool's joke!
Note: Macuha Games is one of the major sponsors of this contest.