It was my first time to attend two blogging events back to back. First was the iBlog6, and the SM Lipa Foodcourt Bloggers' Event on the next day.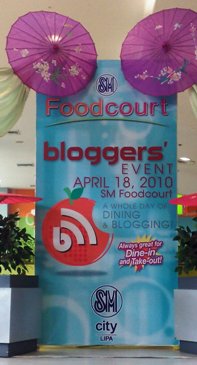 Selected Batangas bloggers were treated to a food trip last April 18 by SM Lipa. I and my wife were among the lucky bloggers who were given free buffet lunch. They also gave us free Bingo tickets, free World Of Fun tickets and I won 3 moisturizing items (Moisturizing Cream Shampoo, Moisturizing Cream Bath and Moisturizing Body Lotion) courtesy of Watsons. Imagine if I used all of these in one day, I'll be the most moisturized person in the whole world! 😀
Anyway, let's talk about the food. Despite all the gifts I received, let me give them an honest review. The rice is good. I like most of the food. I like the Shabu Shabu, I like the chicharon, I like the ice cream, I like the potato fries, I like the sisig and I like the bopis. However, the fruit shake is kinda matabang, you know? And the shawarma? I was not satisfied compared to other shawarmas I tasted before. (I'm a shawarma-addict, ask my wife) Libre na nga, reklamo pa? Hehe. Well, so that they can improve it and get more sales in the future, right?
Well, all in all, it was a nice experience. Meeting fellow bloggers in Batangas, talking with them and planning the future of Batangas bloggers while having a free lunch = win!
Thanks to SM Lipa for making us feel like some judges of the Top Chef Masters. 🙂 Sa uulitin!