This is my third time attending the iBlog summit and my first time as an iBlog speaker. I've had 2 previous talks before about SEO and blogging here in Batangas, but this one is really a new experience to me.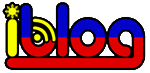 I started my talk with my story. (Just rounded up my 2 cents per day to a dollar per month). That's because I think that if I just go straight away discussing SEO and all those technical stuff, you might not be interested. I just planted some curiosity in your minds so that you'll all listen to me 😀
As for my talk, what I've showed you are just the tip of the iceberg. They are just the basics. But basically, that's all what I really do. Blog about what people are searching for and build links to it. Making a search-engine friendly blog is the first step, which you'll do only once. It's the blogging and link building, and waiting for the results that really takes time.
If you are really interested to learn more, you can download our Guerilla blogging e-book here. If you want to learn SEO in a more technical detail, you can download SEO Made Easy here. It's also free.
And if you are wondering if my SEO techniques discussed on the Guerilla blogging e-book really works, feel free to read some of these testimonials. 😉
If you are looking for my presentation, you can download it here. If you still have questions, contact me here.
Thanks to Miss Janette Toral for giving me the opportunity to talk on iBlog6. Congratulations for making this a success!
Hope to see you all again next year!