When you visit Olongapo, be sure to buy Bayan Ice Cream. It tastes good, even better than Pokwang's ice cream. 🙂
You cannot find it on shopping malls, instead, you'll see it on the streets. It's what my ninong called as "the dirty ice cream na hindi dirty."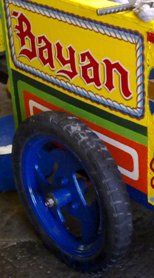 Yeah, it's a dirty ice cream as what people call it. Because it is sold on the streets. But it is clean. And delicious. And if you visit the place where they "cook" the ice cream, it's clean.
Bayan Ice Cream is owned by my ninong Renato Macuha. He imposes strict guidelines to ensure the quality of his ice creams. The vendors are not allowed to use their bare hands when cooking the ice cream. And they must strictly follow the ice cream recipe. They are not allowed to reduce the ingredients That's why every Bayan Ice Cream tasted delicious, thick and creamy.
There are at least 20 ice cream vendors selling Bayan Ice Cream. They roam the streets of Olongapo everyday.
They also accept special orders. You can contact them at telephone number (047)2228144 or at mobile number 09185152549. Their address is at 54 Elicano St., East Bahac Bahac, Olongapo City.
If you are from Olongapo and tasted the ice cream already, share your comments below. 😉