Last week, we bought the Muscle Power Orbitrac Elliptical Bike from Toby's in SM City Lipa. It costs P7000. We bought it because we wanted to exercise at home, and it's cheaper compared to other machines there.
Anyway, let me give you my review on this machine. When we bought it, it is not yet assembled so the first work-out we had on this machine is in assembling it. Without prior knowledge on assembling this machine, it was a big challenge for us. All the tools needed were provided. An assembly guide is also provided in the package. So, all we have to do is to follow the guide. Oh, it was not that easy.
The assembly guide is so hard to follow, because it was not written properly in English, coz it was made in China. Good thing there are some drawings, so we just follow the drawings, choosing the nuts and bolts that we think fit the holes. If it doesn't fit, don't push it. Look for others that would fit. After trial and more errors, we finally finished assembling it after more than 2 hours! I think, I already lost 2 pounds and a thousand calories by just assembling it. Hehe.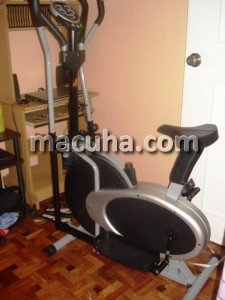 Muscle Power Orbitrac Elliptical Bike
Ok, on to the machine. You can use it as a bike. You can also stand and pretend you are walking, functioning like a treadmill. I think, that is really what an elliptical bike is. It has a digital device that shows how long you've been working out, the amount of calories you are burning, the speed and the distance you have travelled, and the pulse rate. I know this is not accurate, but still, those are nice numbers to look at. 🙂 Like hey! I lost 120 calories after using it in 10 minutes.
The machine has a capacity limit of up to 250 pounds only. So, if you are more than 250 pounds, this is not for you. It might break, you know?
I've used the machine already. The first day after the assembly day is ok. I think, I burned 250+ calories. The next day, my leg muscles hurt. I still continued using it but for only a limited time. Masakit pa eh. I'm using it regularly now, increasing the work-out time day by day. So far, so good. So good, so far!
That's all for now!