Rice-all-you-can? Bottomless iced tea? Max's Restaurant just beat those gimmicks with their own promo for celebrating its 65th year of existence with a Chicken-All-You-Can Promo!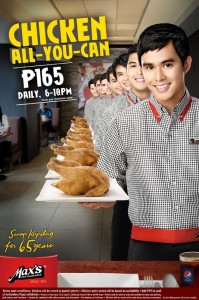 Imagine eating chickens as long as you can for the price of only Php 165. The promo started yesterday, June 17 and the promo ends on July 17, 2010. Unlimited quarter-sliced chicken will be served to diners from 6:00PM to 10:00PM daily and by adding P39, you'll also have a bottomless Pepsi product.
The promo is open nationwide to all Max's Restaurant.
Tara, kain tayo! 😀