Samsung PL100 is one of the new digital cameras from Samsung. It is a dual-screen 12.2 megapixel digital camera, where the front has a 1.5″ display and the back a 2.7″ intelligent display. It is on sale at Bestbuy Canada for only $179.99.
Here are its features: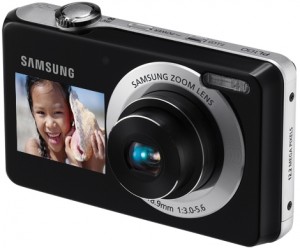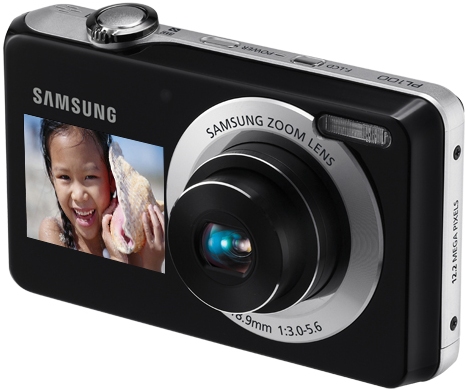 Samsung PL100
Samsung PL100 Features
Advanced Digital Image Stabilization helps you capture beautifully clear images even when the light is low
Innovative Smart Auto means your photos come out perfectly every time, regardless of conditions
Smart Album can organize thousands of photos based on date, content, colour, theme, and file type for easy management
Smile Detection. Smile Detection ensures that no happy moments are missed by taking the shot automatically when smiles are detected..
Face Recognition. An evolution of Face Detection that not only detects a face, but recognises faces it has seen before and prioritises them so your favourite peoples faces are always perfectly focussed and exposed.
Red-Eye Fix. Your camera uses a special algorithm to automatically detect and eliminate red-eye from your shot. You just get the perfect, natural portrait. You can even choose to remove red-eye after you have taken the shot.
The Blink Detection function detects when a subjects eyes are closed; this feature triggers the camera to automatically take three shots in order to capture the eyes open.
Perfect Self-portrait. Use the front LCD for the perfect self portrait, every time.
Recycle Bin. The Recycle Bin Function allows you to retrieve images if you've accidently deleted them.
If you own this camera, kindly post your Samsung PL100 review below. Thanks!
Take better digital photos by buying these e-books! 😉