I've been a Smart Buddy user eversince I learned to use a cellphone. Really. I preferred the prepaid SIM instead of the postpaid plan because I can easily control my expenses. I'm not a fan of postpaid because of the attached monthly fee and lock-in period.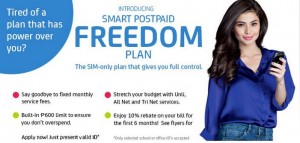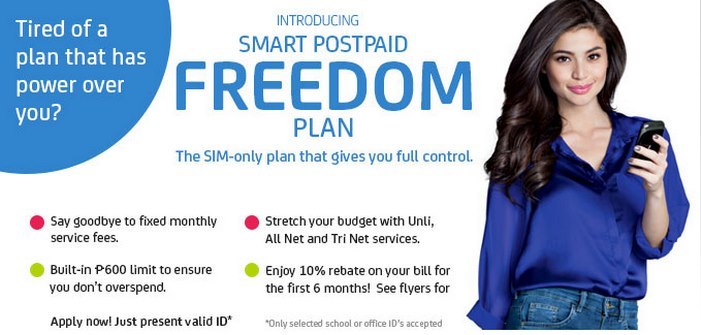 Image Credit: Smart
Then came the Smart Freedom Plan. And after reading what it is, I've decided to try it. Why? Because though it is a postpaid plan, there is no attached monthly fee and there is no lock-in period. I only pay for what I use, up to P600 per month. Which means that if I only spent P100 for calling and texting for a month, I will only be billed P100. If I don't use my phone for a month, I will have nothing to pay. I think, the P600 credit limit is good enough for me since I only load P300 once every two months when I'm on prepaid.
They have "bucket" list which I can opt to subscribe to if I want to. Like ALL Text 200 which gives me 2000 texts to all networks and 150mb of mobile surfing for 30 days. But these are purely optional, I can subscribe anytime I want and be billed from what I used. If I don't use any of those "buckets", then, standard rates apply, like piso per text, P6.50 per minute call Smart to Smart and P10 per 30 minutes mobile surfing.
Application Experience
Applying for the plan is not that easy as advertised if you are a freelancer like me. They require a student ID or a company ID, both of which I don't have. They said they need an ID with my billing address on it, so I showed my driver's license. Then, they asked me if I have a credit card, and when I said yes and showed them my card, they let me go on with my application.
I just filled up the forms given to me and they required me to pay the P250 enrollment fee via my credit card. After paying, they already gave me my SIM card, which is already activated when I reached home.
I enrolled it on my.smart.com.ph and subscribed to e.Statement, so I can get my bills thru my email.
So far, so good. The bill starts at zero. Monitoring my expenses is done by texting BILL? to 211.
If you are on prepaid and you are tired of expiring loads and buying prepaid cards, you must try this.