I think, everybody online already knew that Eraserheads will indeed have a one-night-only reunion concert on August 30, 2008 at the CCP Open Grounds. However, up to now, nobody knows where to get the tickets yet.
Rumor has it the the concert tickets will be free. And it will be downloadable early August. But where can we download it? Up to now, I'm still waiting for the official announcement.
I'll update this post when the official website has been announced. Don't worry, I'll do my best to get that information as soon as possible. I just need to contact the guy with the neck tie on this picture (feeling close!) 🙂 :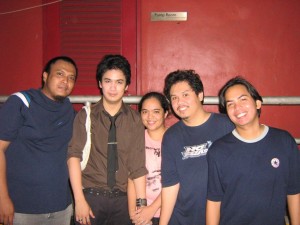 Ely Buendia With Us On NU Rock Awards
Just stay tuned on this blog. Ok?
That's all for now.
Update (July 24):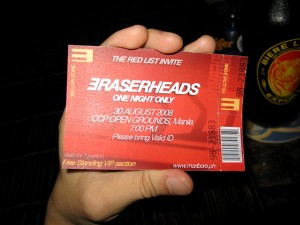 Eraserheads Reunion Ticket
Source: Apol

This guy seems so lucky he already have a ticket. Judging with the photo quality, it seems authentic. Though there's no official announcement yet, I think you must go and register to the Marlboro Red List to get a ticket in the future. I registered and they requested a scanned copy of my ID to prove that I'm 18+ years old. I'm still waiting for their approval.
Update (August 25): Phillip Morris is no longer the sponsor. Tickets are no longer free. Details on how to purchase the tickets will be announced tomorrow (August 26) on newspaper and radio. Watch out for it! More details here.