Finally. Now, it's no longer audio CD but a concert DVD. The complete performance of the Eraserheads Reunion Concert last August 30, 2008 will be released as a DVD this coming January 31, 2009.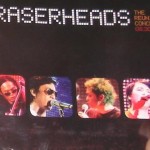 Yup, mark your calendars. January 31, 2009. According to Sony BMG Philippines, the DVD will feature the complete performance plus bonus features of behind-the-scene footages, rehearsals, etceteras.
I'll definitely buy the original copy.
Extra ang boses ko dyan, isa ako sa sumisigaw. LOL! 🙂
I've read this first on Azrael's blog.
Other bloggers spreading the news: