For customers in Metro Manila, Metro Cebu, Davao, Laguna, Lipa, Pampanga and Tarlac, McDonald's Delivery Online, McDelivery is now ready to serve you. For Metro Manila and Metro Cebu, they offer a 24-hour delivery service.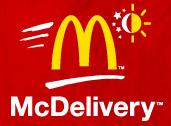 I tested it today when I ordered for our lunch. After submitting my order, I got a call after around 5 minutes from their call center to confirm my order. After that, it only took around 20 minutes before the McDonald's delivery guy started knocking at our door.
I prefer ordering online than calling their hotline number because I don't have a landline here. Calling them via cellphone will cost me more. Ordering online is free since I have unlimited surfing hours via Smart Bro.
How about you? Wanna share your experience with McDonald's online delivery service? Share it on the comment box below. Thanks!
Note: This is NOT a paid post.