We were supposed to start the SkyBroadband free trial last October 16. But they called last October 15 and rescheduled the installation on October 22. Yesterday, they came and installed it. We paid the Php1000 deposit and submitted a photocopy of my SSS ID. According to them, they will call us on the 11th day for them to know if we will continue with the subscription.
Speed test yesterday at around 3:00PM showed 0.99Mb/s download and 0.45Mb/s upload speed.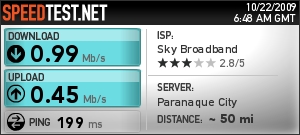 Ping test gave them an A grade.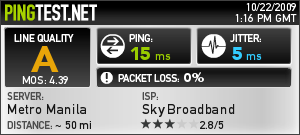 Here's what an A grade means:
An excellent result! Expect all Internet applications to work very well assuming you have sufficient bandwidth. (Source)
It's too early to decide. Let's see if they could sustain the speed for the next 2 weeks. If the speed is stable, rain or shine, then, I might switch.