I recently installed Dreamhost PS Manager on my Dreamhost PS. Now, I don't have to worry about running out of memory resources and serving 500 internal server error messages when traffic increased on my blogs while I'm away from the computer. The error message might still occur, but the chances are now very low.
Dreamhost PS Manager manages the memory resources automatically. It adjusts memory resources up or down depending on your needs, basing it on your memory usage history. It can increase your memory resources to maximum when you are getting traffic spike or it can move your memory resources down during idle times. Everything is done automatically without user intervention. It can also be configured to tweet a message everytime it made changes to the memory resources, so that you can see its status online even without logging in to your server.
Installation of Dreamhost PS Manager is a little tricky for people who don't have that much exposure in Unix systems like me. Downloading the files, configuring the config file and uploading it on the server were easy. Running it on schedule is the tricky part. You need to learn how to setup cron jobs, a feature which Dreamhost PS fully supports in which I'm a total n00b. Admin's Choice Crontab – Quick Reference helped me overcome this problem. I just learned the basic commands there.
After successful installation and running it for 24 hours, I could say that I'm impressed with its performance. You can see the tweets it made here. During the past 24 hours, it changed the memory resources up to 1166 MB during the peak time and then it slides down back to as low as 364 MB during low traffic, saving me dollars during low traffic time and ensuring my blogs will not go down during peak times.
Here is the screenshot of the adjustments made on my Dreamhost account, the first automatic adjustment was made on 2010-09-20 02:20:54 (click the image for a full size view):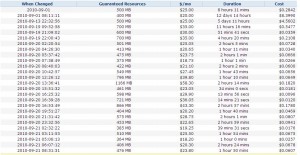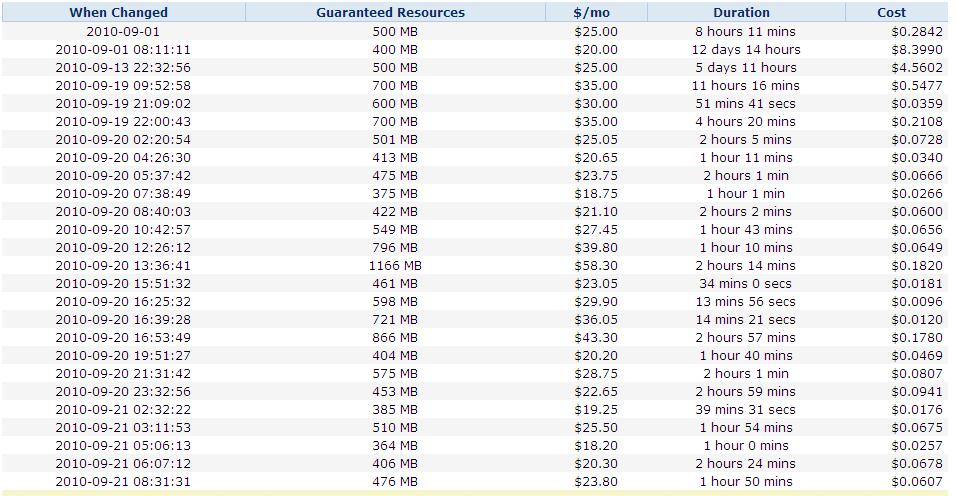 If you are using Dreamhost PS, I highly recommend using this application. It's free and open source. You can actually inspect the codes to make sure that it's not doing anything other than what it is intended to do on your server. Visit its official site here to learn more about it. You will save money on idle times and ensure uptime during peak times.